Saba Island Travel
Saba Island in the Caribbean (5 square miles approx.) may be small but it has lots to offer. At Saba Island there are choices for water sports and interesting lodging like vacation rentals. Travel to Saba Island promises to be an unforgettable travel experience. You can build your personal Saba Island trip planning itinerary online and choose to explore the area on your own or take our travel theme tours that make it easy to experience travel as you like it.

Caribbean Islands Guide - to help with your travel planning, find valuable details on the area including local activities & attractions, recommended restaurants, favorite shopping areas, walking tours, suggested itineraries and events.

Hint: Use the "Quick Links" on the left to find lodging, travel activities, cruises, theme travel and flights.
Travel selections can be booked online.
Note: "Quick Links" only display on the city pages.

The Caribbean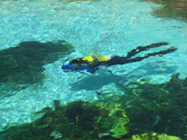 The islands of the Caribbean are a long, expansive archipelago defining the border between the Caribbean Sea and the Atlantic Ocean. Long known as a vacation destination for honeymooners and retirees, a significant eco-tourism movement has opened the Caribbean to a new type of traveler, interested in not only sun and fun, but also in cultural and natural resources.

The indigenous Arawak Indians were the original inhabitants, supplanted by the more aggressive, Caribs, the tribe in place when the first Spanish explorers discovered the islands for westerners. As each island was in turn colonized by a different European country, British, Spanish, Dutch, French or Portuguese, and slavery introduced to farm, original and highly diverse cultures arose. Today, the colorful legacy of that history is alive in the music, art, architecture and language of the Caribbean Islands.

The geography of each island is unique: some are near deserts and very arid, while others boast mountainous rain forests. The sub-tropical latitudes of the Caribbean provide nearly year-round good weather. The late summer and fall months are at times interrupted by strong storm systems crossing the Atlantic from Africa bringing with them those most powerful of storms, hurricanes.

As one might expect, activities in the Caribbean are largely water oriented - scuba and snorkeling, swimming, boating and fishing. Golf has a strong foothold as does everyone's favorite pastime at some point - lying on the beach, staring at the ocean and just sitting still.